I wrote below about having written my first song over 50 years ago. But here we are in 2022 and I think everyone is struggling with something. Happily, Nashville musicians know how to pull off remote recording sessions, so I put out a new CD/recording called Stand Closer. It was released on Apple Music and iTunes, but if you're a little older, like me, you may still want a CD. If you do, let me know!! And leave some message about how you like it!! Justin Ryan made a music video of it that you can see here:
Well 1969 was clearly a big year in the world, since I am far from the only one celebrating 50 years about now. It was the summer that set the course of my life. Meeting Jesus put, as Jeremiah put it, a fire in my bones (Jer. 20:9) to share my new faith with my friends. First, in 1969 being a new Christian in high school in Southern California was definitely NOT cool - and Lord knows, we were all desperate to be cool. But history would record that the song I wrote for my friends that summer would be the beginning of a new genre of music. Then, ten years later, as Contemporary Christian music (CCM) became cool, I was the first CCM artist to come out of the closet. Once again I was, you guessed it, UNcool. But the fire in my bones never left...
Welcome to BALM Ministries Website

"If Larry Norman is to be called the father of Christian Rock, then Marsha Stevens certainly deserves to be known as the mother of contemporary Christian music, a title that Christian Century and others have bestowed upon her. She was the leader of what is considered to be the world's first contemporary Christian music group, Children of the Day, and she has continued as a solo artist to produce albums of worship-oriented and edifying adult contemporary pop. As such, she remains the progenitor of what, by 2002, would become the single most popular genre in the contemporary Christian music market." - Excerpt from "The Encyclopedia of Contemporary Christian Music", Sept. 2002
Fun being part of history:
Nancy Wilson says that the great thing about getting old is being around to see the fruit of the seeds we plant! This is from an edition of The New Yorker and I'm happy to be included. https://www.newyorker.com/magazine/2018/09/24/the-unlikely-endurance-of-christian-rock
Cindy's Mission work
You can follow her mission stories on her Facebook Page - Cindy Stevens-Pino or see the latest trip to Uganda on video at
https://www.youtube.com/watch?v=I89AAhnZ4R0&feature=share 
DONATE TO THIS IMPORTANT WORK BY MARKING YOUR DONATION "CINDY"
Work for 2021
Marsha and Balm Ministries partnered with RMN (Reconciling Ministries Network), the group committed to bringing the inclusion of people of all sexual orientations and gender identities in both the policy and practices of the United Methodist Church (UMC). We started a group at our church in Nashville, Brentwood United Methodist Church or BUMC, called "Draw the Circle Wide" to start the inclusion at home. That commission on The Way Forward made a recommendation that the United Methodist Church world wide (UMC) move forward with one of three plans. In February of 2019 for the worldwide UMC had a vote about how they will handle LGBTQ clergy and gay marriages in the church going forward. They voted by a narrow margin to continue to say that "homosexuality is not compatible with Christian teaching" and that "no self-avowed practicing homosexuals" can be clergy, and that "no UMC clergy can perform a marriage between persons of the same gender," and that no same sex marriages may be held in a UMC church. They voted to carry out specific fines and sentences on anyone breaking those rules. Since then several UMC churches, many in the US, have said they cannot in good conscience carry out those sentences and they will not follow those guidelines. The UMC General Conference scheduled for 2022 is considering several solutions to keep the denomination together OR to lovingly separate from one another along the lines of decisions about full inclusion of the LGBTQ+ community in the life and ministry of the church. Just after we left Tennessee, our 8000 member UMC there decided they would "remove the exclusionary language" about the LGBTQ community from their book of discipline. This was HUGE and BRAVE for this church in the heart of the Bible Belt and we are grateful for their courage and your prayers that sustained our work there until we moved back to Florida. We are currently working with a United Church of Christ (UCC) in St Pete Beach to become fully "open and affirming." (I kind of love following all the different denominations as they fine their individual euphemisms for "queers welcome!" Open and affirming. Reconciling. More Light. Welcoming. Accepting.)
Book signings
Watch for location all through 2021

I'm excited that my book is featured on @suecorbrantheauthor blog today! Read it and let me know what you think. http://wp.me/p7iSaa-ll   I don't think any interviewer gets every detail right (I did not come out at age 64, as most of you know!) but she did a great job.

Sample of the comments I've gotten:
"Just wanting to let you know how blessed I am to know you through your writing the book, " For those Tears I died" while in hospital with open heart surgery. It brought me back to those wonderful Jesus years of the 70s. You through it all never gave up on Jesus. I did for 40 years.Only in the last 10 years.I have been free again in Jesus.I would definitely recommend your book. I was blessed out of my Boots over the last week reading it. It recharged me.On fire. Thanks Marsha. Thanks Jesus."


Two songs that I wrote for Cindy are charting on Broadjam.com.  Thank you to everyone voting for "Wherever You Go" at #3 and "I've Been There" at #7. Both are very special songs for me!

Oh, and for everyone guessing, yes August 20, 1952 is my birthday!  Quick. Who can do the math ?  :-) Interestingly enough, I have to leave my birth date on my site, because Wikipedia had my birth date wrong and I was not enough of an authority to make the correction, but my website was authoritative enough to get them to change it. Wow, welcome to the 21st century :-)

She-wired magazine - this is a magazine which uses language you may not be accustomed to, but a great interview :-) Who is Marsha Stevens

A sweet friend sent me a video from last month in Nepal with a lovely family singing For Those Tears I Died. I'll try to link it to this page, but it's on my Facebook page if you can see that. How sweet is this? Here it is. And it's on YouTube at https://youtu.be/iXe8gKI_0wI


Check out Webisode Wednesdays!!
Marsha and Justin Ryan answer some of your email and Bible questions in online videos.
Click Here to View the Complete Webisodes 

Welcome to our home. We hope you feel the Holy Spirit at work here in the lives and stories that we share. (If you are on an aol-based link, you may have to go to another browser to read this all correctly!) Balm Ministries is an outreach to those who feel they have been somehow left out of the Good News of the gospel of Jesus Christ. When I started out, I thought that would mean just the glbt community. But I've come to discover that there are people from all walks of life who feel that God somehow doesn't quite like them. Clearly Jesus knew we would feel this way because He went out of His way to include "the least, the last and the lost" and even told us that He didn't come for people who already had it all together, but for those who needed Him. Then in the book of Romans, the Holy Spirit speaking through Paul tried to shut all the loopholes by listing all the things that CANNOT separate us from God's love - not famine or nakedness or peril or sword, not life, nor death, nor height, nor depth, nor angels, nor principalites, nor powers, nor things present, nor things to come...(let's see, have I covered everything? Well, just for good measure) nor ANYTHING ELSE IN ALL CREATION will ever separate you from the love of God in Christ Jesus! We're just here to remind you




The CD, I Am Home, is making rounds and getting some reviews.  It was one of 8 albums nominated for the OUT music awards, but did not make the finals.  For those of you who have moved into the 21st century, I will try to update the download page ;-) I knew everyone would like "Jesus to Me", since we have those people in our lives, but a surprise fave has been "The Wailing Wall".  I was so impressed during our trip to Israel at how positive people were.  When we talked about the trip here in the US, we got lots of, "Wow, are you sure you want to go to such a dangerous place?" kinds of questions.  And, just for the record, there were more people killed in Pinellas County Florida during the 10 we were on our trip than were killed in all of Israel during that time!  But, the focus there is on the good, the survivors, the heros, the safety, the blessings.  So, that inspired the song.  I'll post it now.   Blessings, Marsha and Cindy Stevens-Pino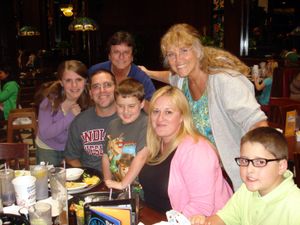 Marsha's son and his family: from left
Bri Joy, Johnny, Cindy, Caleb, Rachael, Marsha and JJ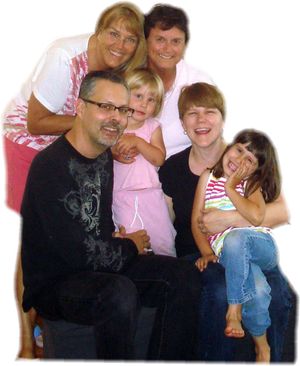 Marsha's daughter and son-in-law's family. From left
Chris, Marsha, little Hannah, Cindy, Naomi and Joan